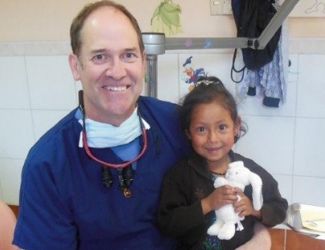 Meet Stephen J. Humbert, DDS
Dr. Stephen Humbert graduated from the University of Minnesota School of Dentistry in 1979 and practiced in Hastings, MN from 1979 to 2016 as part of the family dental office started by his father in 1954. He began and continues teaching at the University of Minnesota School of Dentistry since 2007 as part of the Restorative Science Division. He received the Adjunct Faculty of the Year Award in 2013, 2015, 2016 and 2017 and also received Professor of the Year Award from the 2016 University of Minnesota School of Dentistry graduating class.
He received the Mastership Award from the Academy of General Dentistry in 2000 and also received a Congressional Certificate of Special Recognition from U.S. Congressman John Kline in 2014 for his work with the Common Hope Organization in Guatemala. Dr. Humbert began leading the "Vision Teams" to Guatemala in 2003, providing a variety of activities and services. Since 2008 he has taken dental teams from the University of Minnesota School of Dentistry to Antigua, Guatemala to care for patients in the surrounding communities and currently makes five trips a year with dental students.
Dr. Humbert is a Minnesota native who together with his wife have raised three children, all college graduates and working in MN and California.
Denmark Dental specializes in a variety of family and cosmetic dentistry services. From routine cleanings to dental implants, our Eagan dentists are committed to providing prompt, gentle, and friendly service to all of our valued patients. Schedule your appointment by calling 651-452-4455.