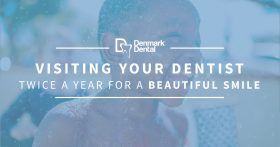 WHY VISITING YOUR DENTIST IS IMPORTANT PT. 2
MAKE SURE YOUR MOUTH STAYS HEALTHY
Here at Demark Dental, we want to help as many Eagan residents as possible make sure that they and their family's oral health needs are taken care of. We are a full service family dentist office and, in today's post, we are going to pick up where we left off last time and continue to go over some of the reasons that it is in your best interest to visit the dentist at least twice a year. While we understand that visiting the dentist may not be the most convenient thing in life, we strongly believe that ignoring your oral health for the sake of convenience can quickly lead to larger health issues. Keep reading below to learn more.
A QUICK CHECKUP IS ALL IT TAKES
Growing up, most people have it drilled into their heads that going to the dentist is essential. When you think about it, this line of thinking makes sense for children. Transitioning from baby teeth to a set of permanent teeth means that most children spend quite a bit of time in the dentist office in order to make sure that their permanent teeth are coming in correctly. However, once our permanent teeth are set and we creep toward adulthood, fewer people take the time to make sure that they visit their dentist. This is, in our opinion, a mistake and below we have listed a few of the essential services that you miss out on by not visiting the dentist.
Cavity Detection: If you have ever had a cavity, you are well aware of the fact that they are not too comfortable. Tooth decay, once it has taken hold of a tooth, is difficult to treat. If left untreated, cavities can quickly transform into more serious stages of tooth decay, stages that may require a root canal or, in a worst-case scenario, the full extraction of a tooth. When you visit the dentist, they will take the time to search or any signs of tooth decay that may be present. If detected early, cavities can be treated with minimal intervention, reducing the chances that the decay will spread and that more serious issues will arise.
Professional Cleaning: Although the vast majority of people take the time to brush their teeth on a regular basis, no home cleaning is going to come close to the level of clean that a dentist is able to provide. When you visit the dentist for a general checkup, they will not only make sure that your teeth are as healthy as possible, they will also perform a detailed, professional cleaning. Professional cleanings are able to eliminate nearly all of the plaque and bacteria that are found naturally on the teeth, leaving your mouth happy and healthy once they are done.
Thank you for taking the time to read our short blog series on the importance of visiting your dentist at least twice a year. If it has been a while since you have visited the dentist or you are simply looking for a new dentist office to handle your needs, please contact us today at Denmark Dental in Eagan. With over 40 years of combined dental experience, we are certain that our dentists will be able to meet any needs that you may have.