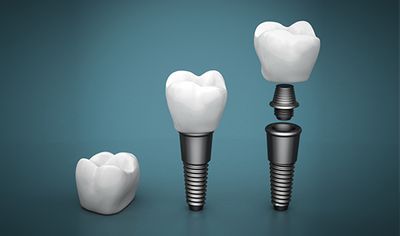 DENTAL IMPLANTS IN EAGAN
WHY CHOOSE A DENTAL IMPLANT?
Dental implants are titanium tooth roots that are surgically placed by a cosmetic dentist in order to secure permanent replacement teeth. These are employed when a whole tooth is missing or removed.
We can also install dental implants in order to support bridges and dentures.
A dental implant allows for the restoration of full tooth function and appearance. Dental implants are a widely available solution for patients in Eagan, though it is necessary for the patient to have healthy gums and enough bone available to anchor the implant.
WHY SHOULD YOU CONSIDER A DENTAL IMPLANT VERSUS A BRIDGE OR DENTURES?
Benefits of Dental Implants
Dental implants offer a wide variety of benefits that can improve the patient's quality of life including:
Better function – Dental implants can help improve speech as well as allow the dental patient to eat with less difficulty and more comfort, especially when utilized with dentures.
Higher confidence –Enjoy a full, healthy-looking smile and its positive impact on your self-esteem in social situations.
Durability –Dental implants are incredibly durable and can last a lifetime if properly cared for.
Convenience – Implants eliminate the need for the involved upkeep that other options such as dentures or dental bridges require. Dental implants are also incredibly reliable and can last a lifetime if properly cared for.
Have further questions about dental implants? We're here to help! Contact us today to set up an appointment with our cosmetic dentists in Eagan!